Zero Prostate Cancer Run/Walk – Rochester 2015
Zero Prostate Cancer Run/Walk – Rochester 2015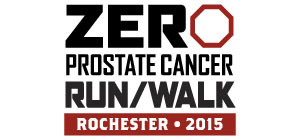 Friday, June 19, 2015 at 7:00pm in Genesee Valley Park
Support the one in seven American men affected by prostate cancer at the Sixth Annual ZERO Prostate Cancer Run/Walk – Rochester on June 19th. The ZERO Prostate Cancer Run/Walk is the premier men's health event series in America, taking place in more than 40 cities in 2015, and bringing together patients, survivors, family members, friends, care takers, and physicians in the fight to end prostate cancer.
AWARDS
Awards will be given for the 5K run for the top Male and Female Masters (40 and over) and the Top 3 Male and Female finishers in the following age categories: 14 & Under, 15-19, 20-24, 25-29, 30-34, 35-39, 40-44, 45-49, 50-54, 55-59, 60-64, 65-69, 70-79, 80 & over.
BRING THE WHOLE FAMILY
This is a great activity for the entire family. All ages are encouraged to participate. Run/Walk for your brother, your father, your son, of your nephew. Bring out your friends, family, and neighbors to promote awareness. Stick around after the race for an outdoor screening of a Despicable Me movie!
KIDS SUPERHERO DASH FOR DAD
Kids aged 9 and under are encouraged to dress as their favorite superhero on race day to remind their heroes – Dad, Grandpa, and other male role models – to take charge of their health! The kids will participate in a short dash on race day and receive superhero capes!
SNOOZE FOR DUDES
Can't make it to the race, live out of town, or would you rather sleep in on race day? Snooze for dudes! Select Snooze for Dudes on the registration form and you can support the cause from the comfort of your own home. You will be mailed a cotton shirt that you can sleep in to show your support for ending prostate cancer. Take the next step and create a fundraising page and have your friends and family help support ZERO. You will be eligible for all the same fantastic fundraising incentives as the participants who run/walk on race day.
VOLUNTEER
If you or any member of your organization would like to volunteer at the race, please contact Eileen Stone at (716)491-3121 or estone@maximweb.com.
ABOUT  ZERO – THE END OF PROSTATE CANCER
ZERO – The End of Prostate Cancer is a national nonprofit organization with a mission to end prostate cancer. As a leader in the fight against prostate cancer, ZERO advances research, encourages action, and provides education and support to men and their families. ZERO's premier programs include the ZERO Prostate Cancer Run/Walk, the largest men's health event series in America. We are a 501c3 charity recognized with four stars by Charity Navigator, a Better Business Bureau member and 98 cents of every dollar donated goes to research and programs. For more information, visit www.zerocancer.org.
                                            LOCAL PARTNERS                                                                         

                                       NATIONAL PARTNERS